"How to build the Open Mesh"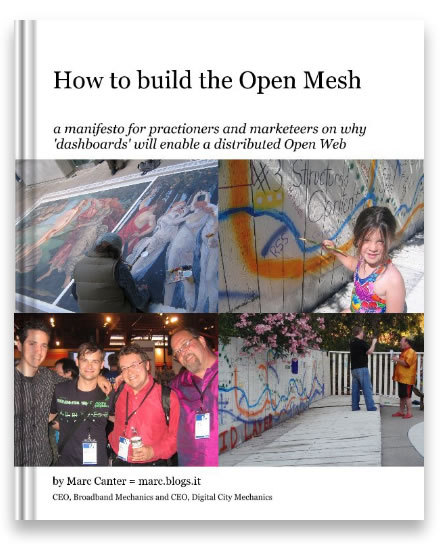 "How to build the Open Mesh"
A treatise on Open Distributed Social Networks - complete with open standards designs and proposals and a visualization of how these "open" networks can evolve.
This book was produced in 2007-2008 by painting on a mural on Marc Canter's backyard fence. Concepts involving dashboard container "micro-formats" were presented in visual-metaphor format - utilizing images from Marc's travels to Europe, Japan and India.
A one-off copy of this book would be printed out - via Blurb - and reviewed by collaborators and open social networking leaders. As changes and additions were conceived, additinal sections would be added to the mural and included in the book.
An interative process was engaged to evolve the book in a unique colaborative manner - with the process repeated eight (8) times.